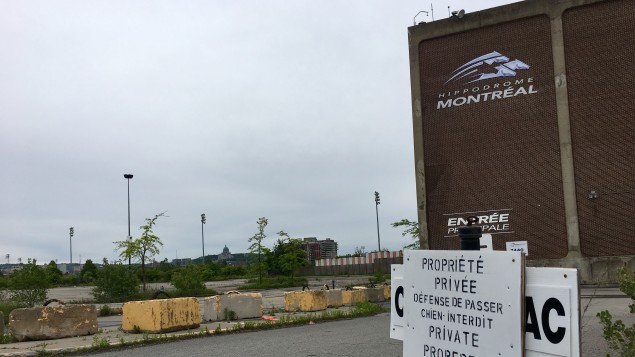 The City of Montreal is committed to demolish the racecourse in the Côte-des-Neiges neighborhood within two years, after finally finalizing the agreement to divest the site with the Government of Quebec and the Société nationale du cheval de race.
Mayor Denis Coderre and Finance Minister Carlos Leitao formalized the transfer of ownership of the land located west of Décarie Boulevard on Tuesday at a press conference at the Montreal City Hall. It took five years of negotiations to come to that announcement.
This will make it possible to relaunch a new neighborhood project, which must have at least 5000 dwellings, evoked for the first time in 2012. This project will be submitted to the Office de consultation publique de Montréal.
Existing buildings will be demolished and the site decontaminated. In this regard, the chairman of the executive committee, Pierre Desrochers, does not expect any unpleasant surprises.
"It was either agricultural or a hippodrome, so we identified small places, but it's very limited. They are thought to be old oil tanks used for heating. The initial contamination is minimal compared to the entire field, "he says.
No residents before 2023
The plan, drawn up by Rayside Labossière, in collaboration with the Côte-des-Neiges Community Development Corporation (CDC-CDN), provided for a neighborhood based on the concept of a shared street, where the place of the car would be limited.
The area is already served by the metro station Namur, on the orange line. In addition to houses and homes, there are local shops, several services and parks.
The City promises about 30% of social and community housing, less than the 2,500 claimed by the CDC-CDN.
"I'm optimistic. I would not say in what year specifically, but I really think we're going to have an interesting project at the racetrack, "says community organizer Jennifer Auchinleck of the CDC-CDN.
In a statement to the media, project manager Montréal, Valérie Plante, is worried about the place given to affordable housing. "We hope that the proposed project will not repeat the mistakes of the project of the former Montreal Children's Hospital as identified by the OCPM , particularly with regard to the lack of large housing units that can accommodate families . In addition, the City must be more ambitious in terms of social and affordable housing on this site. It must go further than the targets it generally imposes on developers and target 20% of social housing and 20% of affordable housing, "she says.
The official opposition at the Town Hall is also concerned about the impact of such a project on automobile traffic in the area.