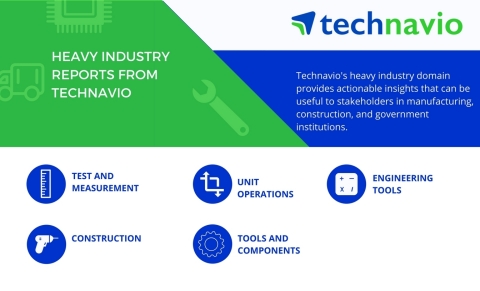 LONDON-(BUSINESS WIRE)-The global stone processing machines market is expected to grow at a CAGR of close to 5% during the period 2017-2021, according to a new market research study by Technavio.
The report categorizes the global stone processing machines market by technology (CNC working centers, waterjet cutting systems, and edge profiling machines) and by end-user (commercial building and residential building). The report also determines the geographic breakdown of the market in terms of detailed analysis and impact, which includes key geographies such as APAC, the Americas, and EMEA.
This report is available at a USD 1,000 discount for a limited time only: View market snapshot before purchasing
Buy 1 Technavio report and get the second for 50% off. Buy 2 Technavio reports and get the third for free.
Market driver: growing preference for natural stone
Most residential and commercial building owners have reduced the use of synthetic building materials to reduce the carbon footprint. This has led to the growth in the demand for natural stones such as marble and granite in commercial and residential construction projects. It is expected that the number of commercial buildings such as office space, hotels, hospitals, and recreation centers will grow significantly during the forecast period. Also, the rise in new residential construction projects driven by eco-conscious millennials that prefer natural stones to synthetic stones is expected to drive the demand for stone processing machines.
According to Neelesh Prakash Singh, a lead analyst at Technavio for unit operations research, "Many homeowners prefer granite or marble as they are highly attractive, durable, and increase the homes' value. As building owners prefer natural stone flooring, the adoption of natural stone is expected to increase during the forecast period for residential and non-residential buildings. The growth in construction of hotels, resorts, shopping centers, malls, and others is expected to propel the demand for natural stones such as marble and granite. Other building materials consume more water and energy while natural stones consume fewer resources and do not require any safety coating during construction."
Looking for more information on this market? Request a free sample report
Technavio's sample reports are free of charge and contain multiple sections of the report including the market size and forecast, drivers, challenges, trends, and more.
Market trend: innovation in stone processing machines
Technological advances assist in creating better stone processing machines as they are manufactured with more precision, quality, and speed. Various stone processing machine manufacturers are investing in R&D to provide innovative products to various end-users. This is increasing the demand for stone processing machines across the globe. Vendors such as Thibaut and DONATONI MACCHINE have launched various stone processing machines in the Marmomacc event in Verona in 2017 that is a fair for operators in the stone industry.
For instance, in 2017, DONATONI MACCHINE launched the new SX-5, an innovative work center with 5 cutting spindles that allows the complete optimization of stone slabs effortlessly. This machine also helps in reducing the processing time and material wastage by utilizing highly advanced software and scanning systems for appropriate cutting cycles.
Market challenge: fluctuation in raw material prices
The raw materials that are used for manufacturing various stone processing machines such as CNC machines, shaping machines, or cutting machines, are different variants of steel and cast iron. These materials have volatile prices that affect manufacturers as well as end-users. The expanding gap between demand and supply has increased the cost of raw materials. The slowdown in the production of steel in China has severely impacted the global steel market.
Is your business on track for a successful future? Learn how Technavio can help
Technavio helps businesses anticipate changes in their marketplace, make proactive adjustments, and develop effective strategies to optimize their market positions.
Key vendors in the market
Biesse Group
Breton
DONATONI MACCHINE
Gaspari Menotti
Prussiani Engineering
SCM Group
Thibaut
Yonani Industries
The global stone processing machines market is moderately fragmented. A few established vendors and many regional and local players are present in the market. Stone processing machine manufacturers mainly focus on adopting strategies such as product launches, expansions, and strategic acquisitions, to sustain the market competition and expand into various geographic regions.
Get a sample copy of the global stone processing machines market report free of cost
Access Technavio's continuously growing unit operations research library and find expert analysis on hundreds of markets.
About Technavio
Technavio is a leading global technology research and advisory company. Their research and analysis focuses on emerging market trends and provides actionable insights to help businesses identify market opportunities and develop effective strategies to optimize their market positions.
With over 500 specialized analysts, Technavio's report library consists of more than 10,000 reports and counting, covering 800 technologies, spanning 50 countries. Their client base consists of enterprises of all sizes, including more than 100 Fortune 500 companies. This growing client base relies on Technavio's comprehensive coverage, extensive research, and actionable market insights to identify opportunities in existing and potential markets and assess their competitive positions within changing market scenarios.
If you are interested in more information, please contact our media team at [email protected].