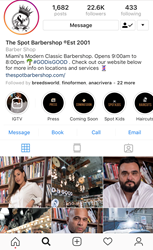 The Spot Barbershop(Miami, FL) utilizing Squire booking integration
Squire's technology gives the power back to the customer and creates a seamless booking experience
NEW YORK July 12, 2018
Squire Technologies the world's first fully integrated scheduling, point of sale, and payroll platform for Barbershops & Men's Salons, is excited to announce an integration with Instagram.
Instagram has over 1 billion monthly active Instagrammers, and 200 million of those accounts visit business profiles each day. Now, Instagram users can turn inspiration into action by booking services with their favorite Squire-affiliated barbershop or barber.
"Squire's technology gives the power back to the customer and creates a seamless booking experience while increasing business for the practitioner," says Dave Salvant, Co-Founder and President of Squire. "Instagram is the largest business driver in the beauty community. By partnering with Instagram, Squire is able to help thousands of small business turn their Instagram followers into valuable customers."
The new Instagram integration is one of many innovations Squire is developing to connect barbershop seekers with the practitioners who offer these services worldwide.
How to get started:
1.    First, if you haven't already, create an Instagram account for your business! See here for more information on why Instagram is a great place for businesses to have their products & services discovered.
2.     Second, convert your Instagram account to a business profile, if you haven't already. See here for more information on how to do so.
3.    Third, go to your Instagram business profile on your mobile phone, and click "Edit Profile." Under the "Contact Options" section, there will be an option to 1."Add an action button." See here for a video of these steps.
4.    Lastly, copy and paste your unique Squire generated URL
For more information about how Instagram can help drive your business, or for tips on how to create great post, stories, and other content, see the Instagram Business Toolkit.
To create your Squire account, head to http://www.getsquire.com
About Squire:
Founded in 2015, Squire Technologies provides a robust, fully integrated software system for Barbershops and Men's Salons. This software has the capability to serve independent professionals, stand-alone locations, and multi-location franchises, with tools such as Point of Sale, Scheduling, Payroll, CRM, and a host of other features. Squire has offices in New York City and Buffalo, NY, and maintains operations in 28 major cities across the United States, Canada, and the United Kingdom. Squire is a Y Combinator-backed company and is a 43North award recipient.
About Instagram:
Instagram is a photo- and video-sharing social media platform owned by Facebook, Inc. The company was founded in 2010 by Kevin Systrom and Mike Krieger and serves as the primary destination for visual storytelling.